Peace project beacon of hope
AFGHANISTAN: Group rallies various faiths to join hands and raise funds to help rebuild war-torn country
Nicholas Keung, Immigration/Diversity Reporter, Toronto Star, 2 Sep 2006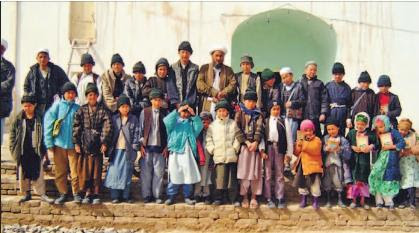 Schoolchildren who graduated from a literacy class pose in Andkhoi, Afghanistan. Ninety-eight children took the class, made possible by the non-governmental Toronto-based Canadian International Peace
Project, founded after 9/11.
Mark Persaud has yet to set foot in Afghanistan, but photos of smiling schoolchildren in front of the Shah Mardan Mosque tell the Toronto man and his aid group that their efforts to help rebuild the war-torn country count.
The children in the photos — 78 boys and 20 girls — graduated in July from the first literacy class taught in this little village of Andkhoi in a long time.
It was made possible by the Toronto-based Canadian International Peace Project.
The non-governmental organization was founded by Persaud in 2001 to foster interfaith relationships in the aftermath of 9/11 and the retaliatory war on Afghanistan's Taliban government.
The country is still in turmoil, with Taliban insurgents wreaking havoc on both civilians and foreign peacekeepers.
At least 19 Canadian soldiers have been killed to date.
But grassroots efforts like those of Persaud's group have increased hope for the rebuilding of a normal life for the Afghanis.
Since its inception, the peace project has rallied support from major Christian denominations — from Anglican to Lutheran, Presbyterian, Roman Catholic and the United Church — as well as other faith groups including Buddhists, Hindus, Jews, Muslims and Sikhs.
"Canada is often thought of as a great multicultural society that's tolerant and accepting, but the time has come when we have to refine our approach to multiculturalism by getting our own diverse communities to work together, instead of merely coexisting," said Persaud, a member of the United Church of Canada.
"We need to go beyond dialogues and do concrete things to bring everyone together, so we can develop an enduring relationship," added the Guyanaborn former federal prosecutor.
The group's fundraising, from charity banquets and concerts to hat-passing among parishioners, garnered $30,000.
That was donated to the International Development and Relief Foundation, a Canadian Islamic aid organization that has dedicated the money to rebuilding the Shah Mardan mosque in the north of the province of Kabul, along the Shiberghan-Andkhoi highway.
The derelict building, once the heart and soul of the village of 500 families, officially reopened with a literacy school in March, just days before Naw Ruz, the Islamic New Year.
Rev. Barry Pridham, of Brantford's Sydenham St. United Church, says there was little interaction between the local Christian and Muslim communities until three years ago, when they joined hands to raise money for the peace project.
"We are gradually and finally appreciating that we are all religious folks with one God. Yes, we have our differences, but we can and must work together as brothers and sisters in our shrinking world," notes Pridham, whose congregation includes 300 families.
"We all have to be vigilant that we don't generalize about people . . . There has been a growth in fundamentalist conservatism and extremism in Christianity, Hinduism, Sikhs and Muslims. We, as moderates, are all struggling to stay progressive and inclusive."
Since the inaugural joint fundraising banquet in 2004, which collected $6,000 for the project, Pridham has worked closely with local Muslims on other issues, including efforts to help farmers affected by the drought in Saskatchewan and Alberta, and most recently the expansion of the Brantford General Hospital's chapel to accommodate Muslims. Now Pridham counts Muslim community partner Mohammad Al-Farram as a good friend. Not only are they on the phone often "to discuss world issues," they attended the weddings of each other's daughters.
Nafisah Chowdhury, a young Toronto Muslim whose parents came from Bangladesh, says the Afghan mosque initiative has been well received by her community.
"We all share our concerns of humanity, and this is particularly a sign to show the maturity of Muslims as part of the larger Canadian society," says the 24year-old University of Toronto law student, who joined the peace project last year.
"This offers a forum for Muslims and people of all faiths who are interested in getting more involved to work on a tangible project together.
"The vision is to develop a sustainable relationship that endures our differences and emphasizes our commonalities." The mosque's opening marks the beginning of a long-term commitment to Andkhoi for Chowdhury and other volunteers.
Phase two of the project will be raising enough money to offer a nutrition program for children, improve agricultural productivity, build a bridge and secure clean water for the village.
"War is not a solution to conflict, and to create lasting peace we need to help people on the ground to address basic needs," says Chowdhury.
"The only way to counter terrorism is to show people that peace is possible despite our differences. The peace project is a model to exemplify that."
The group is also involved in two other projects — an Oshawa peace garden and an Israeli-Palestinian peace initiative.
For more information visit, www.canadianipp.org